Universal Credit - what you need to know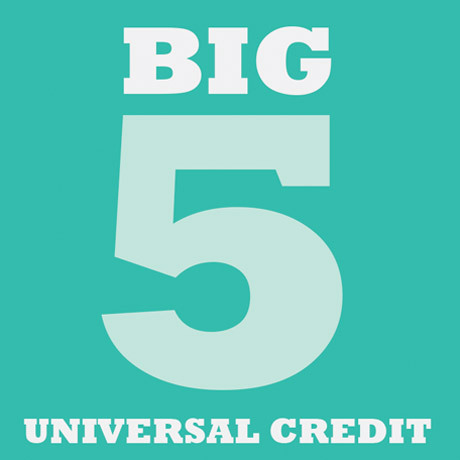 Universal Credit is a benefit for people of working-age who are on a low income or unemployed. It combines six existing means-tested benefits including Housing Benefit.
People on Universal Credit will receive a single monthly payment for their living and housing expenses.
Universal Credit is administered by one benefit department; the Department for Work and Pensions (DWP), whereas other benefits are paid by a range of different departments.
Below are our 'Big 5' tips on what you need to know, and how to prepare.
Five things you need to know
Five things you can do to prepare
Build up 1 week's credit on your rent account so you can cover your rent for a week after making your claim for Universal Credit
Get in financial shape. Managing for 5-6 weeks without benefit will be challenging so try to clear debts and build some savings now. Also stock up on long lasting food, so that you can manage whilst waiting for your claim to be processed
Visit the Citizens Advice Bureau (CAB). Or attend our weekly CAB surgery at Octavia to obtain advice on debt and benefit issues
Improve your IT skills. Universal Credit claims can only be made online so if you are not a confident user of computers and the internet, start to learn now. Contact you local council or go to the local library.
Visit our free employment and training advisor – getting a job or a better paid job can provide extra income. Get help with your CV, links into training or a new role.