Money and benefits advice line
Our Advice Line supports residents who may be facing financial difficulty. The service is designed to provide a targeted service for residents seeking help with managing money and maximising their income.
Residents seeking our help with financial worries or benefits concerns can call our Advice Line to find out how we can help. Then if needed, we can arrange a longer, follow-up, appointment with someone from our Financial Resilience team for further support.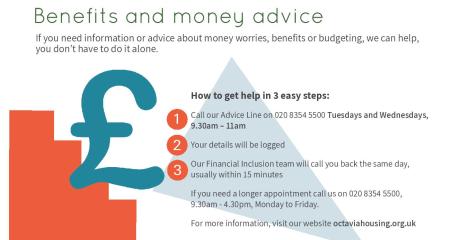 Follow-up, pre-booked appointments can offer help with:
Budgeting and maximising your income
Benefits eligibility and benefits claims checks
Prioritising bills, grants and payment arrangements
The Advice Line is open on Tuesdays and Wednesdays between 9.30am and 11am. Call us on 020 8354 5500 to access the service.
More than 95% of residents seeking financial help contact us because of concerns about benefits. Our Financial Resilience colleagues have over 30 years' experience of delivering benefits and money advice and are best placed to help.
If you are struggling financially, speak to your Income Account Manager about it as soon as possible. We can provide a number of services that can help, including issuing you with food bank vouchers. Please remember that paying your rent is a priority. If you don't keep up with your payments you could lose your home. Talk to us if you feel you need help.
Please contact your Income Officer for individual advice or to make an appointment
Octavia can also support you with:
Work and training opportunities
Advice on saving money
Moving to a smaller home to avoid the under occupation penalty
Grants for hardship e.g essential household items and education - contact your neighbourhood officer
Free internet access in our reception area and links to local courses to learn basic computer and internet skills.
Your local council will also have a limited amount of money available to make discretionary payments towards housing costs. They may prioritise your claim if you have a disability and your house has been adapted. Please contact them for more information.