How to make a complaint
Our internal complaints procedure has two stages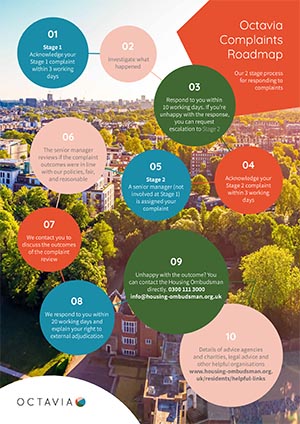 Stage 1
Our aim is to resolve all complaints at this stage. Once you have submitted your complaint, we will acknowledge it within three working days.
We have a dedicated Resolutions Manager who is responsible for training Octavia's staff on how to effectively investigate and resolve complaints. The Resolutions Manager is responsible for ensuring we investigate and respond in a way that clearly demonstrates how we have reached a decision. They have access to staff at all levels to facilitate quick resolution of complaints and will have the authority and autonomy to act to resolve disputes quickly and fairly. We will write to you with our formal written response within 10 working days.
Stage 2
If you are unhappy with our response at Stage 1, you must tell us within 20 days of our Stage 1 response, explaining how and why you are dissatisfied.
You will need to tell us in your request what you expect as a resolution. A Senior Manager or Director will review how your complaint was handled at Stage 1 and investigate if the outcomes were in line with our policies and procedures, and that they were fair and reasonable. The person considering the complaint at Stage 2, will be a Senior Manager or Director who has not considered the complaint at Stage 1. We will write to you with our formal written response within 20 working days.
After these two stages are completed, if you remain dissatisfied you can escalate your complaint to the Housing Ombudsman straight away. The Housing Ombudsman Service was set up to resolve disputes involving the tenants and leaseholders of social landlords. The service is free, independent and impartial. In most cases the Housing Ombudsman will only consider a complaint once it has been through our internal complaints procedure. However, you can contact them at any stage of the complaint process for advice and information.
How you can make a complaint
You can make a complaint:
by phone: 020 8354 5500
in person at one of our offices
by email to complaints@octavia.org.uk
through an advocate (with your written consent)
You should raise your complaint with us as soon as possible. Please note, we will not normally investigate a complaint about an issue that happened more than six months ago.
Resident Complaints Panel
A group of Octavia residents sit on our Resident Complaints Panel. The panel reviews and scrutinises how we handle complaints. From January 2023, you will be able to contact the panel directly after our internal complaints process has been completed if you are unhappy with the outcome, or wish to provide feedback.
The Housing Ombudsman service can be contacted by:
Phone: 0300 111 3000
Post: The Housing Ombudsman Service, PO Box 152, Liverpool, L33 7WQ