2 July 2018
Tamsin Greig pays tribute to Octavia volunteers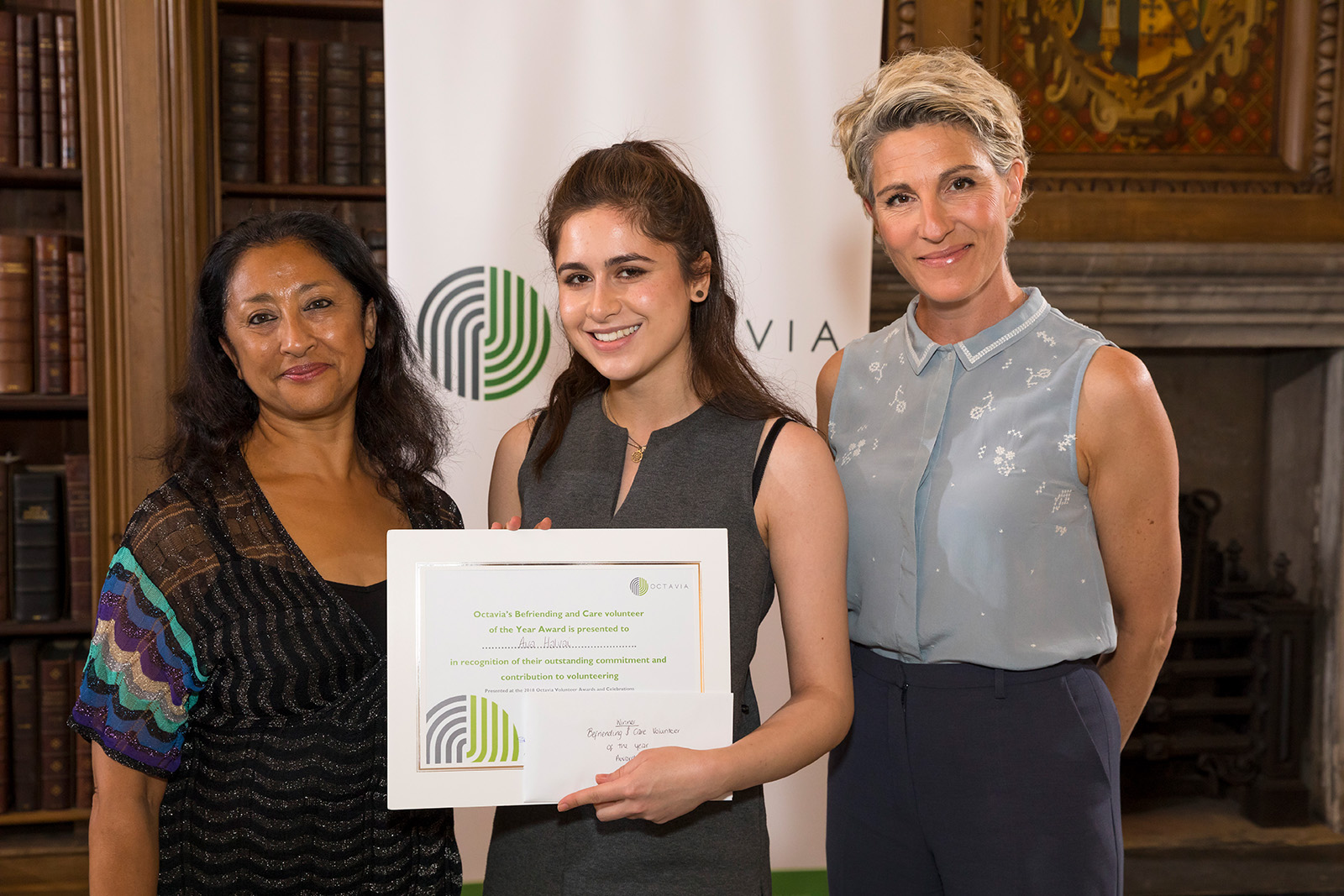 Volunteers from all areas of Octavia were celebrated last night (Thursday 28 June) with our annual Volunteer Awards Ceremony held at Lambeth Palace.
Actor Tamsin Greig was a fantastic host and played tribute to the inspirational stories of those who volunteer in Octavia charity shops, as befrienders to isolated people, those who help us to provide life-changing training and opportunities for young people, fundraisers and all the committed (involved) Octavia residents and other local people who regularly give up their time to support our work in creating Good Homes, Better Lives.
Actor Tamsin Greig attended the event and presented the awards. There were six award categories covering diverse volunteering roles, including befriending, supporting youth projects and schemes providing access to employment. All of the award winners were nominated by service users or colleagues.
Among the nominees and award winners were Octavia residents who are involved in the Tenant Steering Group, Services Scrutiny panel or other policy-shaping roles.
The top award for 'Outstanding Volunteer' went to befriender Manoj Gopal for his dedication to his 94-year-old befriendee Dr Param Bhinder. Manoj, who is a retail manager, won the admiration of the judges for the support and friendship he has developed with Dr Bhinder. Manoj visits Dr Bhinder at least once a week, keeps in contact by telephone and regularly accompanies her on visits outside of her home. He even made a point of visiting her on her birthday to surprise her with a birthday cake.
Actor Tamsin Greig said: "I am really pleased to be part of Octavia's volunteer celebration event again this year. Volunteers are often the unsung heroes in our community. Despite their own, no doubt busy lives, they donate their time and energy, providing help, support and companionship that makes the world of difference to the lives of others. I particularly like that all the projects run by Octavia are for the benefit of local people. I have heard some moving stories this evening and it was a pleasure to be at Lambeth Palace – a very fitting venue to say 'thank you' to so many volunteers."
Reena Mukherji, Director of the Octavia Foundation, said:
"This has been a brilliant opportunity to celebrate all of Octavia's volunteers. They put in an amazing amount of time and effort and are a fantastic support to people in the community. We know how much our volunteers are valued by the people they work with. This evening has been one way of showing how much they are also valued by Octavia."
A special thanks for the evening goes to our sponsors; VHL, Potter Raper Partnership, Mears Group, Hester Architects, Calteq, Devonshires and Barrett Firrell.
The 2018 Octavia volunteer award winners are:
Befriending and care volunteer award
Winner, Ava – Ava was nominated by her Befriendee, who in her nomination said: 'Having her (Ava) visit me feels like having someone from my family that has been missing. I couldn't see myself without her. We have a lot of things in common and we feel connected. The wonderful thing about her is that she never cancels on me regardless of how busy she is. This has changed my life completely and I never thought it would.'
Winner, Roya – Roya was nominated by 5 of her colleagues for 'her loyalty to the Octavia Foundation, the good causes we do, and her attention to very fine details to make our job much better. She creates awareness for the charity through her social channels, she is committed whenever she is needed even out of her agreed rota (on weekends) and all customers just love her being on shop floor. Simply she is a star.'
Winner, Frances – Frances was nominated by colleagues for being "a pleasure to have in the office and a real asset to the whole team".
Winner, Harrods Fine Watch Department – They were nominated for their incredible efforts and creativity at the Octavia Foundation Brompton Road shop, which helped to raise a record £8,000 over 2 different days for Octavia's community work. 'They set a new standard for what can be achieved by running their 'apprentice' style challenge in Octavia's Brompton Road shop. They ran a social media campaign including videos, a fashion show and live window displays. They also provided doorman in full regalia to entice customers to the shop.'
Community volunteering award
Winner, Lola – Lola was nominated for her volunteering work at one of Octavia's community spaces – The Reed, 'where she helps to run a weekly Group Befriending Session. The group involves isolated older people who have very little social interaction. She brings her great charm, sense of humour and has interesting topics for discussion in the sessions.'
Outstanding volunteer award
Winner, Manoj – Manoj is a befriender who has struck up a very special and supportive relationship with his befriendee, who said in her nomination: 'He (Manoj) visits me on a regular basis because I am old and very isolated. For 3 years he has been with me and has been my source of joy. He takes me out to get fresh air even in my wheelchair. He gives me moral support, and he updates me on current affairs of what is happening in the society. I have mobility problems - I can't go out but he goes out to help get anything I need especially my Indian sweets. I thank Octavia for bringing this great person my way who brings me such joy.'Octavia is a not-for-profit organisation with a social mission to create Good Homes, Better Lives.Founded by the social reformer Octavia Hill over 150 years ago, Octavia provides a range of homes including over 5,000 for affordable rent as well as shared ownership opportunities in prime London locations. It also manages seven extra care schemes across north and west London.
Details of volunteering opportunities with Octavia can be found at: https://www.octaviafoundation.org.uk/volunteer