Octavia In Your Neighbourhood W10/ W11
Address
28 Convent Gardens, London, W11 1NJ
We are holding a FREE fun day for residents in the W10/ W11 area on the 29 September 2018 from 11am - 3pm, at our new community hub - The Reed, 28 Convent Gardens, London W11 1NJ.
RSVP to be.involved@octavia.org.uk to attend and let us know your lunch choice. Its as simple as that!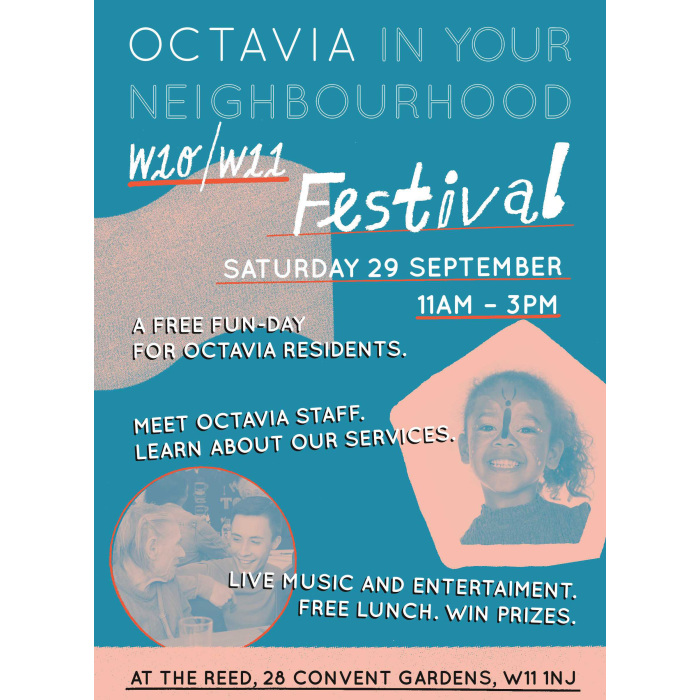 Join us for free refreshments all day, give-aways, muscial entertainment, a free lunch and more.
Programme:
11am – 3pm Information stalls –discuss resident and housing matters, learn to save energy and money in your home, tell us your local priorities
11am – 3pm workshops and shows – digital media taster session, smoothie making from Solidarity Sports, face painting, balloon artist, magician and indian head massages.
11am – 12pm Free photography portraits – get yours taken by a professional photographer
11.30am – 12.15pm new Octavia resident portal – interactive demonstration with Q&A session and giveaways.
12pm - 1pm be amazed as magician Time Barnes joins us with some tricky entertainment.
12.15pm – 1pm Drop-in surgeries – get one-to-one advice from experts who can help with a range of housing needs
1pm – 2pm FREE lunch with entertainment from Mike Mirandi (must register for your lunch please)
2pm – 3pm Drop-in surgeries - afternoon session.
2pm – 2.45pm Bingo – fun for everyone aged 5 – 95!
2.15pm – 3pm Free photography portraits - afternoon session
2.45pm Prize draw winners announced - Be there to claim your prize!
3pm Event closes.
If you are a resident in W10 or W11 and would like to attend then please RSVP to be.involved@octavia.org.uk with your name, how many people will be attending and your choice for lunch. We cant wait to see you!
Event location