How to use our website
This website has been set up to give Octavia homeowners and tenants a fast and effective way to access our services, report any issues, or contact us about specific topics.
If you are not a resident you may want to visit one of our other websites using the link to 'our other websites' in the top right of this page where you will find more information about our care and support, development and community services.
How to use this website
This site is specifically designed for Octavia tenants and homeowners and has been broadly split into two sections (Services for tenants and Services for homeowners, which includes leaseholders and shareed owners).
Information had been coded with a colour and an icon to let you know what section you are in and for our tenants - this coding system is also applied to the printed information for you so that you can easily and quickly reference specific topics. For homeowners the most up to date information is on our website although you can request printed information if you would like it. Each icon represents services of a particular topic please see teh key below for a guide: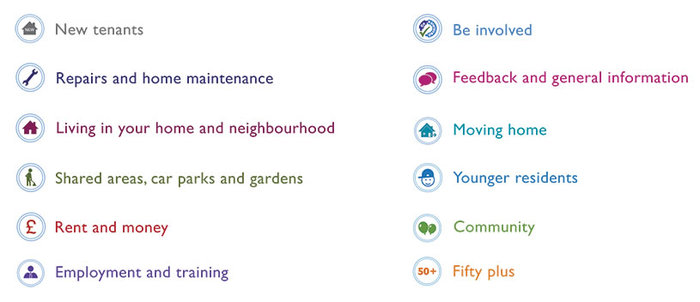 How to access your secure online account
Registering and accessing your secure online account is really easy. Download our guide to the right of this page now.
Tell us what you think
Most importantly, the website is only just beginning its life! We have worked with many residents to be able to put ths site together and we want to keep on improving it so we would love to hear what you think about it. Email us here and let us know.
Thanks to all the residents who have helped us to get the website to this stage. You have been a great help and a tremendous font of knowledge.