16 December 2014
Sir Malcolm opens savings account with a Kensington based Credit Union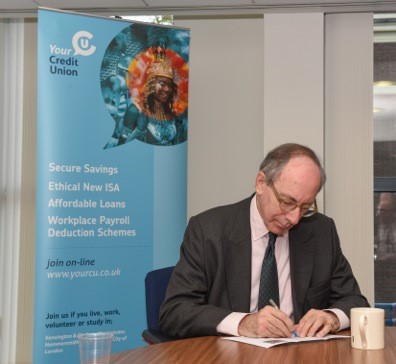 Former Secretary of State Sir Malcolm Rifkind joined Your Credit Union, Kensington & Chelsea – a credit union Octavia helped to set up.
Sir Malcolm visited the Kensington High Street headquarters of YourCU and opened a savings account with the financial co-operative.
We are delighted and honoured to welcome Sir Malcolm as a member of YourCU. To be supported by a politician of Sir Malcolm's stature is a huge boost for us and a measure of the growing importance of credit unions. Saving with a union means we can offer people who are in need of an affordable loan, or who need to consolidate their debts, somewhere to turn. It also provides better-off residents with opportunity to invest their money to benefit their local community as well as giving them a decent financial return - William Rhodes, CEO of YourCU
Sir Malcolm, Member of Parliament for Kensington, is currently serving as chairman of the Intelligence and Security Committee, which oversees the UK's intelligence agencies.
YourCU allows members to make direct transfers on a regular basis from their bank account, or through employer-sponsored payroll deduction. Anyone who becomes a member will also be able to apply for a loan with the ability to borrow between £50 and £7500 and repay over up to five years.
Earlier this month YourCU unveiled its first New ISA offering a tax-free target dividend payment of 2 per cent per annum.
The UK credit union movement is in the midst of a major expansion programme after the government said it would invest up to £38m and has attracted members including the Duchess of Cornwall and singer Imelda May.
Octavia helped to set up the credit union in 2012 and as a result, all Octavia tenants and staff are able to join the credit union and take advantage of the affordable loan and savings options, which would usually be restricted to those who live within Kensington and Chelsea only.
To find out more visit Your Credit Union Website , call the CU directly 020 7605 6341 or visit our Affordable Banking pages.