11 April 2016
'Thanks a million...' says Kensington Credit Union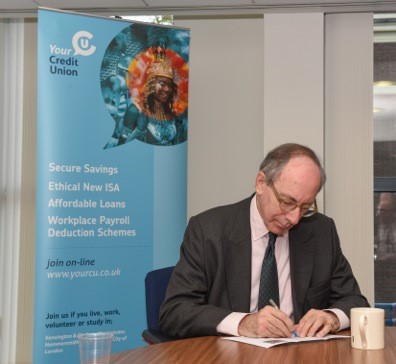 Your Credit Union, based in Kensington celebrated the total number of loans it has provided to date topping the £1 million mark this week, providing members with a 2 % dividend on savings.
Your Credit Union was founded in 2013, with the help of The Octavia Foundation who carried out a feasibility study in 2009 to test demand for a more ethical banking service in the area. The Union now has more than 1000 savers and 450 borrowers whose savings are covered by the Financial Services Compensation Scheme.
Chairman, Professor Jonathon Read, said: "It is an important symbolic target, but also shows how the community can offer a viable alternative to members who need to borrow responsibly rather than with pay day or money shop lenders.
The point is to offer a viable alternative to the very high interest rates offered by some entities and, of yet more concern, the illegal doorstep lending to which some residents fall prey."
Due to the early involvement and support given by the Octavia Foundation, Octavia tenants are able to use the Credit Union Service irrespective of their location (usually customers are restricted by the boroughs that they live in for Credit Unions).
Reena Mukherji, Director of The Octavia Foundation said: "We are really pleased that Your Credit Union is doing so well in the local community. Kensington and Chelsea is often characterised as an area of extreme wealth but this masks the significant pockets of deprivation hidden within the borough.
A growing number of residents, especially those who have had a recent personal crisis or those on lower incomes find it difficult to access mainstream financial products. As a result they turn to loan sharks or home credit companies who charge extortionate interest rates - anything upwards of 164% APR."
Looking ahead to the coming year Professor Read said Your Credit Union would be looking to attract more deposits from its wide London geography and beyond.
"Larger sums help us grow more quickly – we can take up to £15,000 per member – but we are there for the whole community whatever their savings. It is by working together as a commonwealth we all thrive.
For further information visit: www.yourcu.co.uk or call: 020 7605 6341. Octavia tenants should mention their landlord when applying.